Karen Drenkard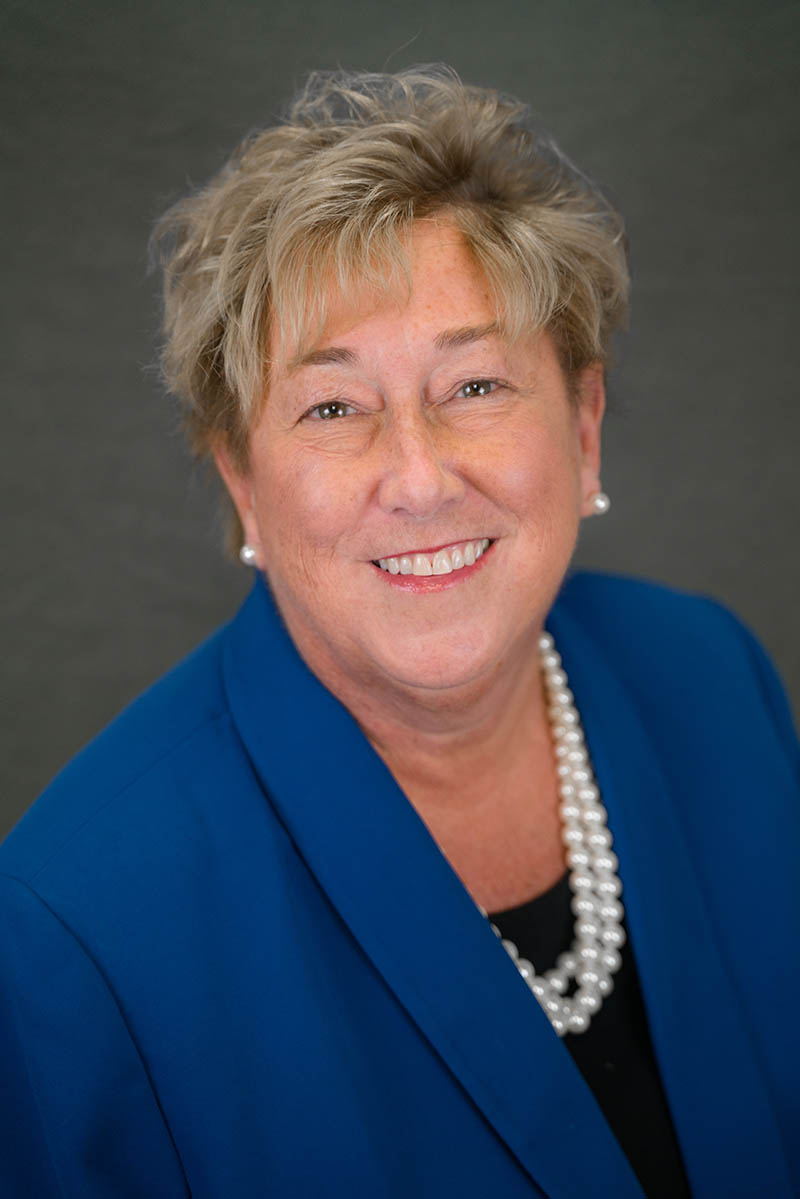 Karen Drenkard
Ph.D., RN, N.E.A.-B.C., F.A.A.N.
Associate Dean, Clinical Practice and Community Engagement
Professor
---
Contact:
Office Phone:
(571) 553-0041
45085 University Drive
Ashburn VA 20147
Dr. Karen Drenkard is the  Associate Dean, Clinical Practice and Community Engagement at the George Washington University School of Nursing in Washington DC. She leads multiple centers at GW, including Community Partnerships, the Center for Aging and Humanities, the Center for Health Policy and Media Engagement and the School of Nursing Global Initiatives work. 
Having come from her role of Chief Nurse at GetWellNetwork, a healthcare technology company addressing patient and family engagement, Dr. Drenkard led the creation of the O'Neil Center, advancing the science of patient and family engagement.  Drenkard is the past Executive Director at the American Nurses Credentialing Center and the Magnet Recognition Program. Prior to her service at ANCC, Drenkard served for 10 years as the chief nurse executive of Inova Health System in Fairfax, Virginia.
She is the immediate Past-President of the Friends of the National Institute for Nursing Research (FNINR); board member of the American Academy of Nursing and serves as the co-chair of the Institute for Nursing Leadership at the American Academy of Nursing. Drenkard serves as an editorial advisor to the Journal of Nursing Administration (JONA) and Nursing Administration Quarterly (NAQ).  She is a member of the Board of Visitors for the University of Pittsburgh School of Nursing, Indiana University School of Nursing, and is a Board of Trustee member for Anne Arundel Medical Center in Annapolis, Maryland.  She is a fellow in the American Academy of Nursing and the National Academies of Practice.
Drenkard received her Ph.D. in nursing administration from George Mason University, a Wharton Nurse Executive Fellow, and a Robert Wood Johnson Executive Nurse Fellow.
---
Books and Book Chapters
Drenkard, K., Wright, D. (2014) "Patient Engagement and Activation" in book "Person and Family Centered Care"; Barnsteiner, J., Disch, J. and Walton, MK., Sigma Theta Tau International, Indianapolis, Indiana
Chappell, K, Drenkard, K. (2012) Continuing Nursing Education to Ensure a Competent Nursing Workforce, a chapter in Continuing Professional Development and Lifelong Learning: Issues, Impacts and Outcomes, Neimeyer, G.J., Taylor, J.M. editors, Nova Science Publishers, Inc.
Dugan, L, Drenkard, K. Rigotti, G., (2005, revised 2008, 2012).  All Hazards Disaster Preparedness, p. 439-360, a chapter in Huber,D., Leadership and Nursing Care Management, 3rd edition, Saunders Elsevier:  USA
Drenkard, K., Morgan, S. and Wolf, G. (2011).  Book:  Magnet:  The Next Generation, editors.
Drenkard, K., (2011) The Influence of Magnet Recognition® on Organization and Workplace Policy, A chapter in Policy, Practice and Politics, Mason, D., Leavitt, J., editors.
Barker, A., Sullivan, D. (2006).  Contribution to chapter Teams and team building, Drenkard/ Inova Health System template submitted for Team charter of a recruitment and retention planning team, table 13.2, p. 224-225 in Leadership Competencies for Clinical Managers, Jones and Bartlett:  USA.
Articles in Peer Reviewed Journals
Drenkard, K. & O'Connor. M. (2019). "Working toward healthy work environments." Nursing Administration Quarterly, 43(2), 99-100.
Swartwout, E., El-Zein, A., Barnett, SD, Drenkard, K. (2018). The Design and Testing of the Psychometric Properties of the Person Engagement Index Instrument to Measure a Person's Capacity to Engage in Health Care. Journal of Nursing Measurement (J NURS MEAS), 2018; 26(2): 278-295.
Jacobs, B., McGovern, B., Heinmiller, J., Drenkard, K. (2018). Engaging Employees in Well-Being: Moving From the Triple Aim to the Quadruple Aim. Nursing Administration Quarterly, Jul-Sep2018; 42(3): 231-245. 15p. 
Drenkard, K., Morris, T. (2018). Advocating for Nursing Research: The Friends of the National Institute for Nursing Research (FNINR) Ambassador Program.Nursing Administration Quarterly, Apr-Jun2018; 42(2):143-149. 
Linnenkamp, R., Drenkard, K. (2016). Coordinating Care: Shifts in Perspective.  Nursing Administration Quarterly, Apr-Jun2016;40(2): 122-129.
Drenkard, K. (2016). GUEST EDITORIAL. Are We Really Patient Focused? Time to Challenge Ourselves. Journal of Nursing Administration; Lippincott Williams & Wilkins (Baltimore, Maryland) Mar 2016 Supplement; S1-S2. (2p)
Swartwout, E. Drenkard, K., Grant, S., McGuinn, K., & El-Zein, A. (2016). Patient and family engagement summit: Needed changes in clinical practice, Journal of Nursing Administration, in special supp. entitled: Improving Patient and Family Engagement: Implications for Practice.
Deyo, P., Swartwout, E., & Drenkard, K. (2016). Nurse manager competencies supporting patient engagement, Journal of Nursing Administration, in special supp. entitled: Improving Patient and Family Engagement: Implications for Practice. (accepted for publication, in press).
Johnson, Jean; Drenkard, Karen; Emard, Esther; McGuinn, Kathy.  (2015). Leveraging Quality and Safety Education for Nurses to Enhance Graduate-Level Nursing Education and Practice.  Nurse Educator, Nov/Dec2015; 40(6): 313-317. 
Drenkard, K., Swartwout, E., Deyo, P.& O'Neil, M. (2015).  Interactive Care Model:  A framework for more fully engaging people in their healthcare, Journal of Nursing Administration, 45(10), 503-510.
El-Zein, A., Drenkard, K., Deyo, P., & Swartwout, E. (2015).  The application of gaming theory in healthcare, Nursing Administration Quarterly, 39(4), 340-344.
Drenkard, K (2015).  The Power of Alignment:  Educating nurses in quality and safety, Nursing Administration Quarterly, 2015, July-September: 39(3): 272-278.
Drenkard, K. (2015).  Influencing and impacting the profession through governance opportunities, Nursing Administration Quarterly, 2015, Jan;39 (1):  38-43.
Drenkard, K. (2014).  Patient Engagement:  Essential partnerships to improve outcomes.   Journal of Nursing Administration, Jan 2014; 44(1): 3-4. 
Clavelle, JT, O'Grady, TP, Drenkard, K. Structural empowerment and the nursing practice environment in Magnet® organizations J Nurs Adm. 2013 Nov;43(11):566-73.
Drenkard, K. (2013).  Change is good.  Journal of Nursing Administration, Oct2013; 43(10): 489-490. 
Drenkard, K. (2013). Creating a Culture for Advancing Nursing Research. Journal of Nursing Administration, May 2013; 43(5): 245-246. 
Drenkard, K. (2013).  Credentialing as a Commitment to Excellence. Journal of Nursing Administration, Mar2013; 43(3): 119-121. 
Drenkard, K. (2013). Transformational leadership: unleashing the potential. The Journal Of Nursing Administration [J Nurs Adm], 2013 Feb; Vol. 43 (2), pp. 57-8.
Drenkard, K. (2013).  The Journal Of Nursing Administration [J Nurs Adm], ISSN: 1539-0721, 2013 Jan; Vol. 43 (1), pp. 4-5.
Cox, K., Drenkard, K., Magnet innovations and outcomes in children's healthcare.  Journal of Pediatric Nursing, Vol 26 (2):105-6. 
Drenkard, K. (2012).  Strategy as solution:  Developing a nursing strategic plan.  Journal of Nursing Administration, Vol 42(5):  242-243. 
Drenkard, K. (2012).  The transformative power of personal and organizational leadership.  Nursing Administration Quarterly, Vol 36(2):  147-154. 
Clavelle, JT, Drenkard, K., Tullai-McGuinness, S., Fitzpatrick, JJ (2012).  Transformational leadership practices of chief nursing officers in Magnet ® organizations, Journal of Nursing Administration, Vol 42(4):  195-201
Drenkard, K., Swartwout, E. (2011).  Introduction to positive practice environments and outcomes:  State of the Science.   Journal of Nursing Administration, Jul/Aug 2011 Supplement; 41 S2-3.
Drenkard, K. Magnet Momentum:  Quality and Safety, Nurse Leader, June 2011.
Drenkard, K., Swartwout, E. (2011).  Introduction to positive practice environments and outcomes:  State of the science:  A commitment to optimal practice environments.  Journal of Nursing Administration, Vol 41(7-8 Suppl), p. S2-3.
Cox, K., Drenkard, K. (2011).  Magnet innovations and outcomes in children's healthcare.  Journal of Pediatric Nursing, Vol 26(2):  105-106. 
Gokenbach, V., Drenkard, K. (2011).  The outcomes of Magnet environments and nursing staff engagement: A case study. The Nursing Clinics of North America, Vol 46(1):  89-105. 
Chappell, K., Drenkard, K. (2010).  Credentialing:  Achieving quality in continuing nursing education.  Journal of Continuing Education in Nursing, Vol 41(7):  292-293.
Drenkard, K.  The Business Case for Magnet.  Journal of Nursing Administration, June 2010.
Drenkard, K., The Magnet Imperative, Journal of Nursing Administration, Vol 39(7-8 Suppl):  S1-2.
Drenkard, K., Integrating Human Caring Science into a Professional Nursing Practice Model, Critical Care Nursing Clinics of North America, issue devoted to Innovative Practice Models for Acute and Critical Care, Maria Shirey, RN, PhD (c) guest editor, March 2009 issue.
Sherwood, G., Drenkard K. (2007) Quality and Safety Curricula in Nursing Education: Matching Practice Realities, Nursing Outlook, Vol. 55, No. 3, 151-156. 
Drenkard, K., Swartwout, E., Effectiveness of a Clinical Ladder Program, Journal of Nursing Administration, 35(11): 502-506.
Drenkard, KN (2005). Sustaining magnet: Keeping the forces alive, Nursing Administration Quarterly, 29(3): 214-222. Heller, B., Drenkard, K., Esposito-Herr, M., Romano, C., Tom, S., Valentine, N., (2004) Educating Nurses for Leadership Roles, Journal of Continuing Education for Nurses 35(5): 203-210.
Drenkard, K., Cohen, E., (2004) Clinical Nurse Leader Role: Implications for Practice, Journal of Nursing Administration 34 (6):257-260.
Drenkard, K., (2004) Clinical Nurse Leader Role: A Response from Practice, Journal of Professional Practice 20(2): 89-96.
Drenkard, KN, and Ferguson, SL,(2003) Developing Nurse Leaders in Health Policy: An Education and Practice Partnership, Policy, Politics and Nursing Practice, 4(3): 180-184.
Fahlgren, T., Drenkard, K., (2002) Healthcare system disaster preparedness part 2: Nursing executive role in leadership Journal of Nursing Administration, Vol. 32 (10): 531-537
Narayan, M., Rea, K., Cressy, M., Rogers, J., Preuss, B., Drenkard, K., Miklancie, M. Searching for nursing's future? Here's how to turn your vision into reality, Nursing Management, 33(1):  26-30. 
Drenkard, K., Rigotti, G., Hanfling, D, Fahlgren, T., Lafrancois, G. (2002). Healthcare System Disaster Preparedness Readiness Planning, Journal of Nursing Administration, 32(9): 461-469.
Drenkard, K., Swartwout E., Hill, S.(2002) Nursing Exploration Summer Camp: Improving the Image of Nursing, Journal of Nursing Administration, 32(6): 354-362
Drenkard, K., Ferguson, S.(2002), Genetic Testing and Discrimination: Case Example – Virginia, Pediatric Nursing, 28(1): 71-73.
Drenkard, KN, Creating a future worth experiencing: Nursing Strategic Planning in an Integrated Healthcare Delivery System, Journal of Nursing Administration, 31 (7/8): 364-376.  
Drenkard, KN, (2001) Team based work redesign: The Role of the Manager When You're NOT on the Team Seminars for Nurse Managers, 9(2): 90-97.
Mastorovich, MJ, and Drenkard, KN (2000) Nursing Future Search: Strategy for Building a Community of Nurses in an Integrated Healthcare System, Journal of Nursing Administration, 30(4): 173-179.
Drenkard, K., Haring, L., Knutson, A., Rainey-Sharkey, L., (1999). Design Detail Team: A Summer of Transformation, Nursing Administration Quarterly, 23(2)
Drenkard, K. and Nelson, P.(1999), Physician Partnerships" Nursing Administration Quarterly 23(2)
Drenkard, K. (1997). Executive Journey: From 1,300 FTE's to None. Nursing Administration Quarterly (22)(1): 57-63
Other Publications
American Academy of Nursing 34th Annual Meeting, November 2007. Poster presentation: Evidenced Based Nursing Management Decisions: Creating a Nursing Stability Plan, November 8-10, 2007, Washington, D.C.  
Thrall, T., Drenkard, K., (2006). Stay or go? Commentary response to column on "Practical ethics" in Hospitals and Health Networks.
American Academy of Nursing 33rd Annual Meeting, November 2006, Poster presentation accepted as RWJ Executive Nurse Fellow: Making Time for Caring.
Drenkard, K., Gresh, B., Innovation in Nurse Executive Development: Computer Simulation, Nurse Leader 2(5): 36-38.
Schumacher, E., Drenkard, K., Tornabeni, J., Care Delivery Innovation in an Integrated Health System, Nurse Leader 2(1): 52-55
George Mason University – Ph.D. in Nursing, focus in administration, policy and leadership (2006)
Robert Wood Johnson Nurse Executive Fellow – Fellowship (2003-2006)
Johnson & Johnson-Wharton Nurse Executive Fellows Program (2003)
Marymount University – Masters of Science in Nursing Administration (1986)
Russell Sage College – Bachelor of Science in Nursing (1980)
Health Care Quality and Safety
Health Policy
Informatics
Nurse Executives
Quality Improvement
Communication
Woo
Arranger
Achiever
Activator